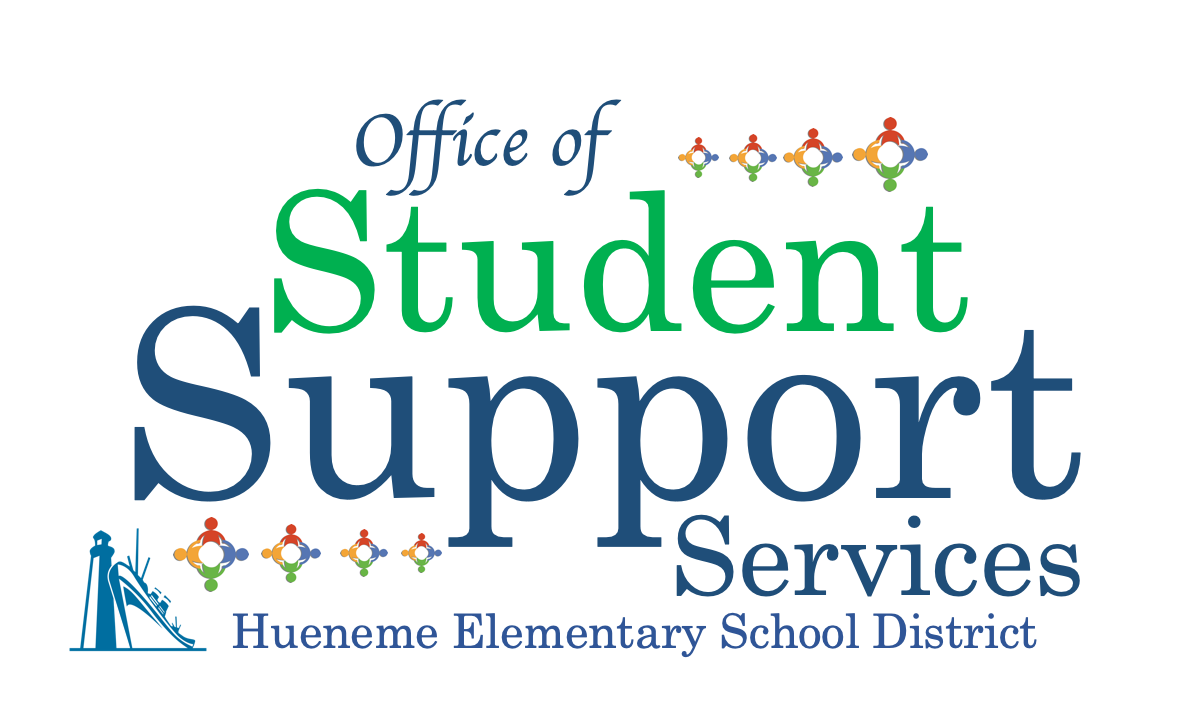 The Student Support Services department is devoted to providing support services that will meet the needs of ALL students in our district. To ensure that students reach their maximum potential, the priority of this department is to provide services that address the whole child. These services include Counseling, Multi-Tiered System of Support, Social and Emotional Learning, Positive Behavior Support, Bilingual Education, Migrant Education, School Improvement,Parent Complaints, Homeless/Foster Students, and English Language Development, .
Contact Us
David Castellano, Senior Director
Student Support Services
Phone: 805-488-3588 ext 9220
dcastellano@hueneme.org
Leticia Salgado, Senior Secretary
Phone: 805-488-3588 ext 9220
lsalgado@hueneme.org
CONSISTENT WITH EDUCATION CODE (SEC 35291.5 AND SEC.48900) RULES FOR STUDENT DISCIPLINE ARE DEVELOPED AT EACH SCHOOL SITE. IN DEVELOPING THESE RULES, EACH SCHOOL SOLICITS THE PARTICIPATION OF PARENTS, TEACHERS, ADMINISTRATORS, SCHOOL SECURITY PERSONNEL AND AT THE JUNIOR HIGH LEVEL, THE STUDENTS THEMSELVES. THESE RULES ARE REVISED AS NECESSARY AND UNDERGO SITE-LEVEL REVIEW AT LEAST EVERY FOUR YEARS. DISCIPLINARY STRATEGIES PROVIDED BY BOARD POLICY, REGULATION AND APPLICABLE LAW INCLUDE BUT ARE NOT LIMITED TO REFERRAL OF THE STUDENT FOR ADVICE AND COUNSELING, CONFERENCES WITH PARENTS OR GUARDIANS, RECESS RESTRICTION, DETENTION DURING AND AFTER SCHOOL, COMMUNITY SERVICE, REASSIGNMENT TO AN ALTERNATIVE EDUCATIONAL SETTING, REMOVAL FROM THE CLASS AND IN EXTREME CASES, SUSPENSION OR EXPULSION FROM SCHOOL. FOR ADDITIONAL INFORMATION CONTACT YOUR CHILD'S SCHOOL.
THE GOVERNING BOARD OF THE HUENEME SCHOOL DISTRICT RECOGNIZES THAT THE DISTRICT HAS PRIMARY RESPONSIBILITY FOR INSURING THAT IT COMPLIES WITH APPLICABLE STATE AND FEDERAL LAWS AND REGULATIONS GOVERNING EDUCATIONAL PROGRAMS. FURTHERMORE, THE BOARD ACKNOWLEDGES AND RESPECTS STUDENTS' AND EMPLOYEES' RIGHTS TO PRIVACY. THE DISTRICT SUPERINTENDENT ENSURES THAT THERE ARE EMPLOYEES DESIGNATED TO INVESTIGATE CONCERNS AND COMPLAINTS AND THESE EMPLOYEES ARE KNOWLEDGEABLE ABOUT THE LAWS AND PROGRAMS FOR WHICH THEY ARE RESPONSIBLE. IN ADDITION, THE BOARD RECOGNIZES THAT A NEUTRAL MEDIATOR CAN OFTEN SUGGEST AN EARLY SOLUTION THAT IS ACCEPTABLE TO ALL PARTIES INVOLVED IN AN ISSUE OR CONCERN. THEREFORE, THE BOARD HAS APPROVED A MULTI-STEP PROBLEM RESOLUTION PROCESS WHICH BEGINS AT THE LOWEST POSSIBLE LEVEL. TYPICALLY, THE LOWEST POSSIBLE LEVEL IS THE CLASSROOM OR THE SCHOOL SITE.
FOR MORE INFORMATION PLEASE CONTACT THE OFFICE OF THE DISTRICT HEARING OFFICER, SENIOR DIRECTOR MR. DAVID CASTELLANO AT 488-3588, EXTENSION 9220