News
Parents and Guardians, As you know, we at Green JHS are always doing our best to keep your student safe. Over the last week, we have seen a growing number of students being ...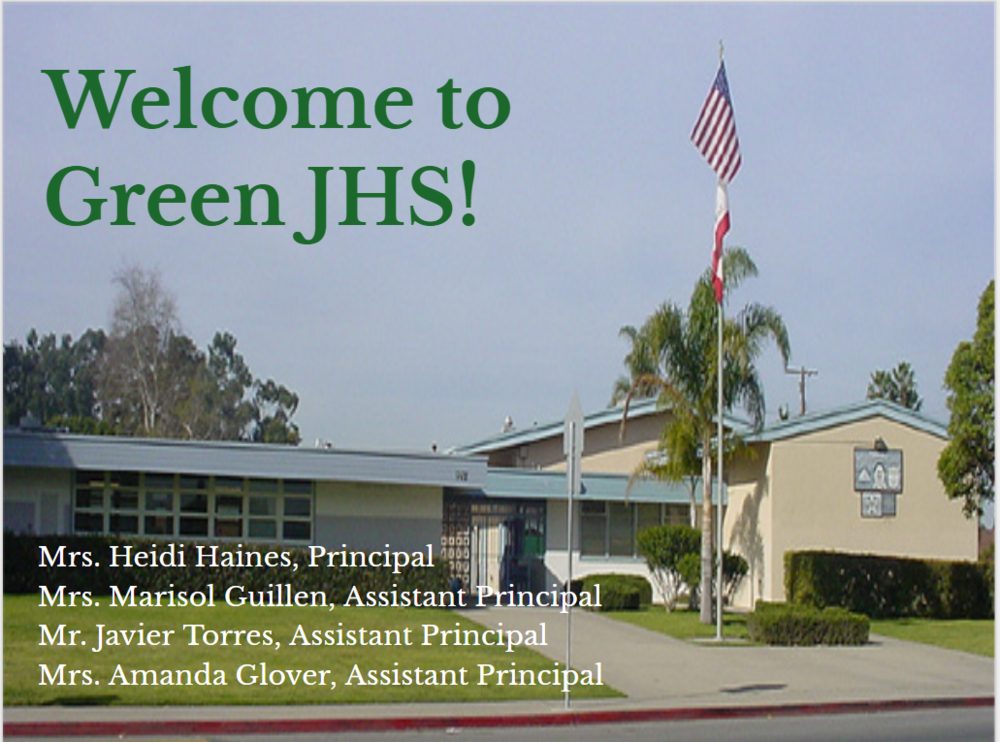 Click here to access the Green JHS School-Wide Expectations Presentation. You can access this presentation from the website at anytime. It's important to know what is expected ...
SEE ALL NEWS
LIVE FEED

Amanda Glover
3 days ago
Congratulations to our Boys B Team for their hard earned Oxnard City Championship victory last night! #GreenJHS #HornetPride #Hesdpride view image

Amanda Glover
4 days ago
Attention, Hornet Families: Let's bring THE HIVE to the PAL gym tonight to support the #GreenJHS Hornet Basketball team. Our boys 7/8 B Team is competing tonight at 7:00pm for the City Championship and they need our support! #hornetpride #hesdpride https://youtu.be/9_y6uz1gvas

Amanda Glover
6 days ago
Hornet Hive Update: Students who have Friday lanyards for general dress may wear their lanyards tomorrow. Please see agendas for general dress guidelines. Also, #GreenJHS basketball players may wear their jerseys tomorrow to celebrate their successful season.

Amanda Glover
6 days ago
Hornet Hive Update: Attention NBVC families, the Sunkist and Pleasant Valley Gates are both closed until 3pm today. Today is an early release day and school will be out of session at 1:00pm. Please plan accordingly. TY! #GreenJHS

Amanda Glover
7 days ago
Hornet Hive Update: Reminder! Today is #GreenJHS Rainbow Hornet Day. Please wear bright colored and/or rainbow colored clothing to show support of inclusivity and kindness. General dress rules in the handbook still apply. #hesdpride #kindnessmatters #inclusiveschools
SEE ALL POSTS